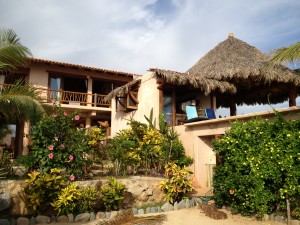 The Mexican beachside resorts of Ixtapa & Zihuatanejo and nearby surfer enclaves at Playas Troncones & Saladita are popular vacation destinations for "getting away from it all." For those wanting to take their retreat even further, Casa Carolina on Playa Verde is the ideal tropical secluded escape. Only a 3-minute drive from Troncones through the jungle, Casa Carolina is the only home on this 3/4-mile stretch of private beach. It is a spacious home with air conditioning, and with plenty of room for family reunions, weddings, corporate retreats and for large groups of friends to gather for surf, sand, yoga and relaxation.
Casa Carolina is a new 5-bedroom home that was designed to embrace the natural lines, beauty and "air conditioning" of the ocean, as well as electrical air conditioning when desired. Every room has multiple outdoor access points — and can often be opened completely to be a natural extension of the outdoor living space. Instead of hallways, we have garden pathways. Breezes and sunlight fills the open air space while the beach is just steps away. Surrounding the beach, and further creating the idyllic privacy at Casa Carolina, are the Sierra Madre Del Sur mountains which provide a majestic skyline and endless opportunities for hiking and horseback riding.
Many of the beautiful design features at Casa Carolina are nature inspired. This includes shower systems enclosed within tree trunks, unique handlaid mosaics and the use of locally sourced and renewable materials such as bamboo, palm trees and parota wood. Beyond the beach, the rich traditions and culture of Mexico have great influence on Casa Carolina's design with all of the furniture, artwork, dishes, tiles and textiles coming from artisans throughout Mexico.
Although built "off the grid," Casa Carolina still offers the luxury and comforts of many high end home rentals with solar-powered appliances along with air conditioning and high speed internet service and a home entertainment system. Creativity and ecologically harmonious planning has come together to create a comfortable, unique and beautiful space that we are so excited to share with our fellow travelers.
To learn more about Casa Carolina's layout and amenities, as well as concierge services available for our guests, click here.
For more about Playa Verde, including its surf breaks, click here.