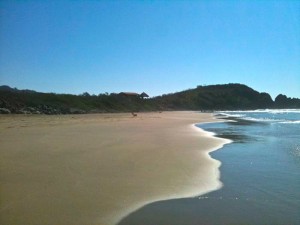 Playa Verde is a 3/4-mile stretch of sandy beach on the Mexican Riviera—
and you will have it all to yourself!
There is a comfortable shallow stretch before getting to deep water which makes the beach great for swimming as well as boogie boarding (2 boards are included with the rental). During the winter months, there are 2 rocky points and in the summer, the number of rocky patches increases but you'll still have plenty of soft sand to wander.
One of the main features of Playa Verde that first attracted Casa Carolina's owners is the great surfing to be had directly in front of the home.The surf is a beach break with 2 rock points on each side, forming a good left on one and a good right on the other (when the swell direction cooperates). Surfers of all levels will enjoy Playa Verde. The swell has significantly larger waves during summer months with optimal small swells all winter long.
Outside of the water, Playa Verde is a wonderful spot for hiking, exploring local flora & fauna and horseback riding. And of course, don't forget to pull up a patch of sand to watch the majestic technicolor sunsets as the sky fills with golden, pink, purple and red lights and the sun dips below the horizon of the Pacific Ocean.